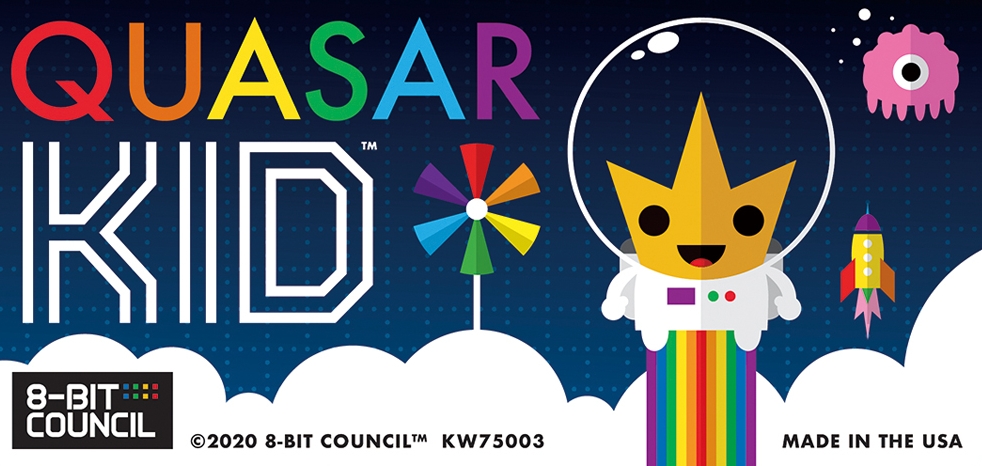 Quasar Kid
Objective
Quasar Kid is on a quest across the galaxy to meet new friends and bring them together. Each new planet you visit is inhabited by potential alien friends. Some of them are not very friendly though, use your rainbow thruster to fill them with joyful colors and bring them to your ship.
Controls
d-pad/arrow-keys: move quasar kid left and right
x button: use your rainbow thruster to control movement up and down
down+x close to your ship: launch your inventory of friends screen

use arrow keys to browse your collected friends list
press x to see details and potentially release friends into the universe to allow space for new friends
press z to close the inventory

up+x close to your ship: skip the current planet and go to the next one
Features
A gazillion procedurally generated alien friends. Collect your favorites!
Hundreds of different worlds to visit.
A rainbow thruster!
This game was inspired by a great famicart designed by @KeithAWood
Updates
12/29/2020:

Quasar Kid suit changes color when more than half of your inventory is filled with friends of the same color.
added some player stats to the inventory: times hit, planets visited, adventure time and number of aliens collected so far.
other minor fixes

12/16/2020:

New upgrade: after collecting 50 friends you can now see where all the green aliens are on the radar so you can easily ignore them (100 for blue, 200 for pink...)
Fixed ship launch on radar.

12/14/2020:

BIG CHANGE: now your upgrade power is based on the alien friends you have in your inventory and not on the ones you release.
inventory is now only accessed by getting close to your ship and pressing: down+x
now you can skip the planet by getting close to your ship and pressing: up+x
revamped inventory screen
inventory screen now shows the time the game is played and the number of collected aliens
you can also do a "galaxy jump!?" from the menu (press <enter>) to randomize the levels again and start from the beginning (without losing your collected friends)

10/28/2020:

Added music.
A new uber ultra mega rare alien color (1/1000).
More sfx.

10/21/2020:

Added a title screen and some tuning, polish and sfx.

10/17/2020:

misc bug fixes and polish
Comments
Log in with itch.io to leave a comment.
Lovely game! The procedurally generated aliens look stunning. I sincerely thought that they were hand-drawn until I read it in the description. If could I change anything it'd probably be the "follow" algorithm, so that the "friends" wouldn't get in a way when I'm trying damaging "future friends" :)
That being said I enjoyed playing your game. Thank you!
Thanks for the feedback @indutny! My thinking was that having your new friends annoy a little would be an incentive to try and bring them back to your ship as soon as possible. So, at any given point you have to decide to deal with them blocking your progress or spend the time to bring them to your ship and come back.

Thanks again for your comment and for playing the game!
I'm a little biased because I created Quasar Kid, but with 100 different levels Picoter8 really outdid himself for the agbic jam. I really hope everyone loves collecting new friends as much as I do! It's been so fun to see Quasar Kid come to life in a fun action game! ☁️✨
High Five, Keith! I'm having lots of fun making this one. Stay tuned, I have plans for adding a few more things: planet clusters, a planet map, way more levels, music, etc.
It's so fun to see everything coming together for Quasar Kid. I've shared the game with many people and they all seem to enjoy it! I can't believe there are over 100 levels and still more to come! Keep up the great work and I'll continue making new friends! ☁️✨
Great idea and execution on it. Have had an alien friend stuck on a green block which can't seem to clear him to complete the level.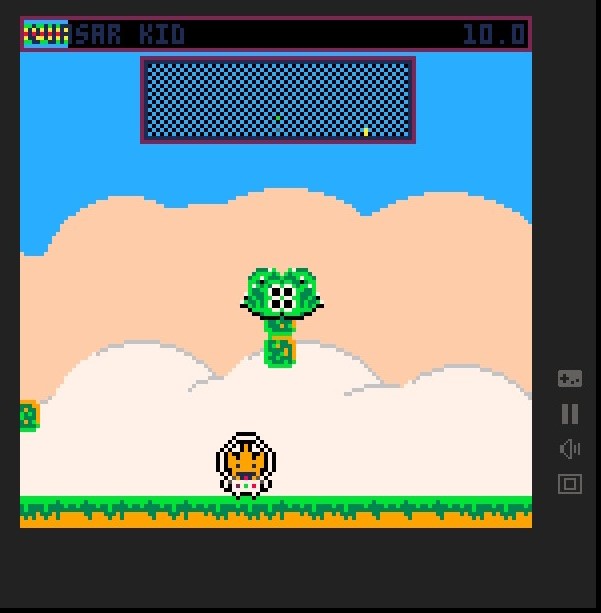 Nicely done! I almost picked this image for the "A Game By Its Cover" jam. I think you really nailed the spirit of the image! It kept me playing for quite a while.
Thanks a lot! Any favorite aliens in your collection yet? :)
> Any favorite aliens in your collection yet? :)
For this kind of aesthetic, I'm partial to the big head/big eyes designs. They seem more sympathetic.
BTW, are you French-speaking by any chance? (Just wondering, since your username is a French word.)

Just found out it's a French word. It was only meant as a variant/tribute of my love for pico8.